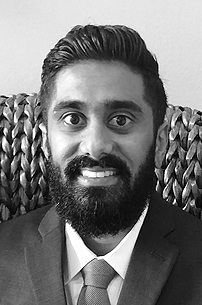 104 Sea Grove Main Street
St. Augustine, Florida 32080
(904) 495-0400 office
(904) 495-0506 facsimile
(888) 588-2599 toll free
download vcard
email ANISH PATEL
Linkedln
ANISH PATEL
Anish Patel heads St. Johns Law Group's hospitality law practice group, representing clients with hotel, condo-hotel, resort, timeshare, vacation club, country club, food and beverage and restaurant legal issues around the State of Florida. Mr. Patel has a background in the hotel and restaurant industry that provides him with practical experience and a keen insight into the unique legal challenges confronted by hospitality business clients.
Whether negotiating a transaction for the sale or acquisition of a hotel, zoning and permitting a new site, reviewing a franchise or vendor agreement, drafting a lease, management agreement or operating agreement, addressing a construction defect or claim of lien, resolving an ADA or employment law claim, challenging an insurance denial of coverage, or addressing any other legal matter related to the hospitality business, Mr. Patel has the knowledge and experience.
For clients seeking to establish a long-term relationship with their attorney, Mr. Patel can be retained on a monthly fixed-rate, which provides hospitality clients with continued access to a dedicated attorney without the sudden, unexpected cost that comes from hourly billing. This also helps clients address the little, often ignored legal issues that can result in later problems such as fines or litigation. Having Mr. Patel retained as your attorney can be a smart business decision.
EDUCATION
Stetson University
College of Law
Florida State University
B.A., Economics and Social Science
BAR MEMBERSHIPS
The Florida Bar – Young Lawyers Division
St. Johns County Bar Association
BAR ADMISSIONS
The Florida Bar