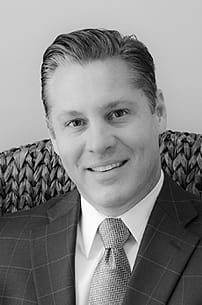 104 Sea Grove Main Street
St. Augustine, Florida 32080
(904) 495-0400 office
(904) 687-9126 cell
(904) 495-0506 facsimile
(888) 588-2599 toll free
download vcard
email
Linkedln
DOUGLAS N. BURNETT
Doug Burnett is the owner and founder of St. Johns Law Group. Serving as Managing Partner, Mr. Burnett manages the day-to-day operations of the firm and is available to all clients as a resource to support the other attorneys in the firm. Mr. Burnett balances those responsibilities while maintaining an active commercial real estate and complex litigation practice with a focus on land development and subdivisions.
PRACTICE AREAS
Complex real estate matters and commercial litigation. Mr. Burnett practices local government law, including real estate development, as well as real property and construction litigation, homeowners' association law, land use planning, comprehensive planning and concurrency, development agreements, and financing matters. Mr. Burnett has represented all participants in the real estate industry including homeowners' associations, landowners, developers, builders, both local and national, contractors, lenders and brokers. His practice includes representation of clients who develop subdivisions, apartment complexes, office buildings, shopping centers and often involves matters such as office space leasing, triple net, NNN, ground leases, physician space sharing and timeshare agreements, contracts, property, construction, business disputes and commercial cases. Mr. Burnett has served as primary attorney on real estate and leasing matters for a major medical company. His experience includes management of sensitive and controversial applications for development approval before planning and zoning agencies, County Commissions and City Councils. Mr. Burnett has successfully handled litigation of complex cases before the Trial and Appellate Courts, as well as contested zoning matters through petitions for writ of certiorari. However, Mr. Burnett believes his greatest value is in helping clients negotiate complex deals, analyze HOA matters, navigate contested litigation and obtain approvals for tough projects.
EDUCATION
University of North Florida, B.B.A. 1994
Widener University School of Law, J.D. 1998
EXPERIENCE
General Counsel for Northeast Florida Regional Airport – St. Johns County Airport Authority for over 15 years (2005-2022)
City Attorney for City of St. Augustine Beach Florida (2009-2016)
Former Assistant County Attorney in St. Johns County, Florida.
Former Assistant State Attorney in St. Johns County, Florida.
Former Shareholder/Equity Partner at a Regional Law Firm.
Regularly advises homeowners' associations (HOA) on legal matters.
Representation of major health care providers nationwide on real estate matters, including office building leasing.
Representation of builders and developers seeking rezoning, PUD approval, Comprehensive Plan amendments, variances, special use permits and land use permits.
Extensive trial experience, including over thirty jury trials and over one hundred non-jury trials, as well as mediation and arbitration.
Representation of owners, general contractors, subcontractors, and design professionals in disputes and litigation involving both commercial and residential contract and construction claims, as well as build-out and bid documents.
PROFESSIONAL ACTIVITIES
St. Augustine Lighthouse (Former Board Member and Founding Lights Member)
St. Johns County American Cancer Society (Former Cattle Baron)
St. Johns County Bar Association (Past President)
St. Johns County Education Foundation (Former Board Member)
St. Johns County Salvation Army (Advisory Council Member)
Flagler College (Prior Visiting Instructor and Donor)
BAR MEMBERSHIPS
The Florida Bar
United States District Court for the Middle District of Florida
ADDITIONAL INFORMATION
Mr. Burnett is the son of Major General Douglas Burnett (Ret.) the former Adjutant General of Florida, having served 47 years in the United States Military. Mr. Burnett's father is a former Trustee at the University of North Florida and has been a board member of the St. Johns River Water Management District Governing Board since 2013.